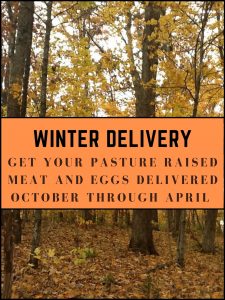 We are moving into the off season and you may be wondering how you'll keep your freezer stocked with delicious meat to feed your family through the winter if the markets are closed.
Well, don't worry, we have you covered!
Each month we will have a pick-up at our normal market locations.  I will send out my usual email with a reminder of the pick-up day/time and a deadline for orders.  If you aren't on our email list, you can subscribe to the right of this post. Pick-up is by order only, so I won't have any extra product available on those days.
For our Wildwood customers, our first monthly pick-up will be October 7th, the last market day.  Please place your orders by 7pm on the 6th.  Starting in November, Wildwood delivery will be the first Saturday of the month from 1:30-2:30pm.  I will park as close to my regular market spot as possible.  If you are picking up, I will have your phone number and text with my exact location if we can't meet there for some reason.
For Washington customers, we will also meet on the first Saturday of the month starting in October.  We will meet at the lower parking lot next to the market pavilion from 3pm-4pm.
Our plan right now is to make these deliveries after the Demun Neighborhood Market in the city.  So if you can't make the first Saturday, it may be possible to meet on another Saturday.  Please visit our "Where to Buy" page to keep up with any changes.
If you have any questions, please email us at info@stuartfarm.com