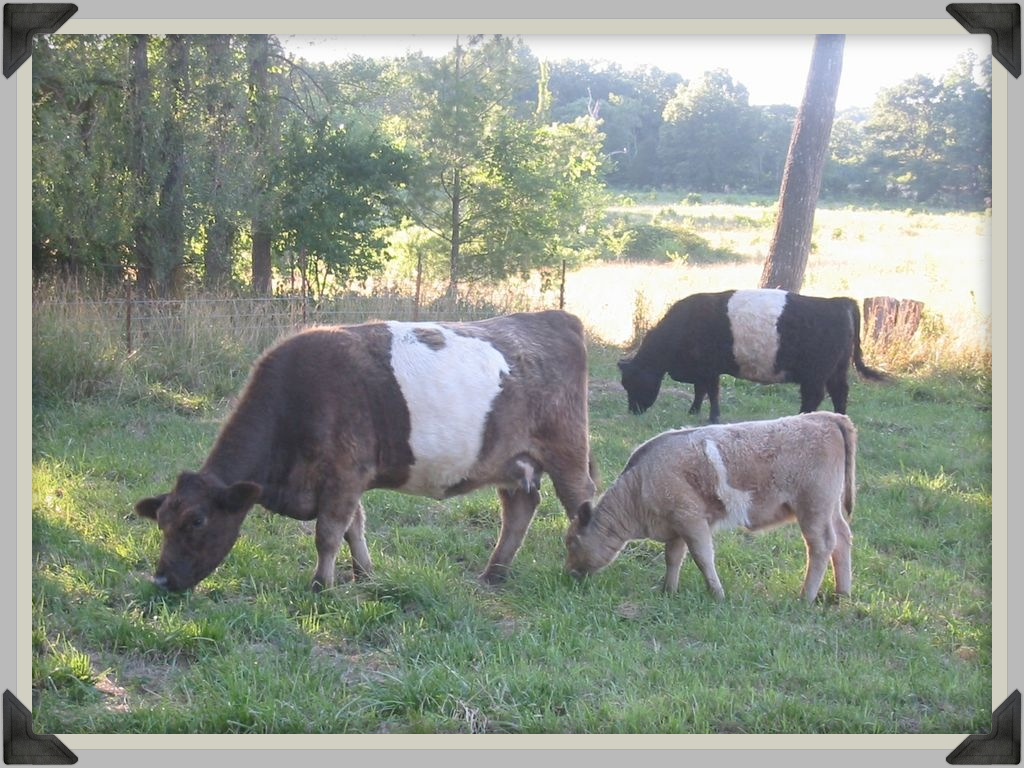 UPDATE: We are currently downsizing our Beltie herd to focus on growing our Devon herd.  Trixie, a heifer calf, is currently for sale.  She has a good belt and will make an excellent breeder cow one day.  Her dam and grand dam were both duns (pic to left) and threw good stout calves and calved easily.  Trixie is 7/8 Belted Galloway and 1/8 Angus, DOB 4-1-15. Price: $1000. Please use the contact form below for more information.
Our herd of Belted Galloways rotate through 12+ pastures, with no hormones, antibiotics, or grain. We do give our cattle mineral supplements and medicate when an animal is injured. Both Fred and Serena attended Grazing School in 2012 and the pastures are set-up to benefit the herd's and the soil's needs. Our main goal with our herd is to allow them at eat as much fresh grass as possible and to feed as little hay as possible. We do save some pasture for cutting our own hay to get everyone through the winter.
The main reason we chose to raise grass-fed beef was to make sure what we and our family and friends ate was good healthy beef. Cattle are not meant to eat grain, and giving them grain to add weight faster is not good for them or us. You are what you eat, and the same is true for them. Grass-fed beef is lower in total and saturated fats, higher in omega 3 fatty-acids, higher in vitamins A and E, and higher in conjugated linoleic acid (CLA) which has been linked to a reduced risk of heart disease, as well as, certain types of cancer. We like to keep it simple, and you can't get any simpler than allowing them to do and live as they were meant to.
To place a pre-order for beef, please use the form below.