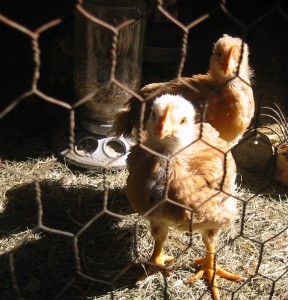 In this all day class, students will gain the knowledge to raise chickens with confidence and increase profitability.
The class begins with a tour the farm discussing how we raise our layers and what set-up will work best for you. After the tour, we discuss each of the topics listed below.  Detailed handouts will be provided and each student will receive 1 year of support to answer any questions or troubleshoot issues.  
Topics include:
• Best layer breeds
• Raising day-old chicks and using broody hens
• Maintaining a good coop
• Nest boxes
• Nutritional requirements of chickens, including sample rations
• Disease and injuries
• Chicken feeders and waterers
• Raising and protecting free-range chickens
• How to winterize a chicken coop
• Benefits of eggs from free-range chickens
• Marketing and selling eggs
• Differences with meat chickens
Who should attend:
• Those thinking about raising layers for themselves or for egg sales, and want information before they begin.
• Those raising layers on a small-scale and want additional information to improve their profitability and production.
Materials required:
• Notepad
• Pen or pencil
$135   10 student max; 2 student minimum.
Dates: Nov. 10, 2018; and scheduled by appointment.
Time: 9:00 am – 3:00 pm
Instructors: Serena Stuart
Location: Stuart Farm, Gerald, MO 63037
We will provide a full refund for anyone cancelling 14 days before the class date.  Cancellation less than 14, but more than 7, days before the class is a 50% refund. No refund will be given for cancelling less than 7 days before the class.  If there is space in another class, in the same year, you have the option of transferring to it, otherwise the policy will be adhered to.  No refunds will be given to students who are unable to complete the class.  If less than the minimum number of students enroll, you will be offered another class date or a full refund.
A few things to remember:
• Please wear comfortable clothing and shoes for the farm tour.
• For bio-security reasons, if you have been around any other livestock, including a backyard flock, or on a farm, please scrub the bottoms of your shoes and spray with a disinfectant the night before coming to the farm.
• Please bring your own sack lunch, as we do not have the facilities to provide lunch.
• We do not have good cell phone coverage for some carriers; please leave our number with anyone who may need to contact you for emergencies only.
• All participants must be over 18 years old. Children are allowed for private classes with one parent present.
• We do not allow spectators. Everyone in attendance must be a paid student.