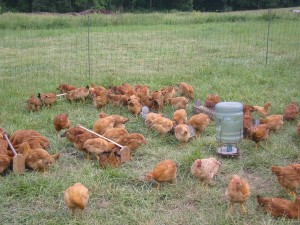 Learn how to successfully raise and process your own meat chickens.  This class will consist of a short lecture followed by hands-on processing.  The cost of the class covers handouts on the information we go over, including sample feed rations and online resources, a tour of our farm set-up, and 4 processed and packaged chickens ($80 value) to take home.
Topics include:
• Choosing chicks
• Brooding options
• Feed rations, options, and schedules
• Disease and injuries
• How, when, and why of pasture raising
• Predator issues
• Humane slaughter; butchering; packaging
• Regulations
• Waste disposal
Skills taught:
• Humane slaughter (killing)
• Scalding
• Plucking
• Eviscerating
• Butchering (break-down) a chicken
• Packaging
Who should attend:
• Those who are considering raising meat birds for their family or for sale and want to gain experience in the butchering process.
• Those who are currently raising meat birds on a small-scale and would like more information and practice to increase efficiency.
Materials required:
• Notepad and pen or pencil
• Clothes and shoes you do not mind getting wet and dirty (Rubber boots and apron recommended but not required).
• Please bring a cooler of ice to transport your chickens home.
• Sack lunch and drink.
5 student max. 2 student minimum
Instructors: Fred Stuart and Serena Stuart
Dates: May, June, and October TBA  (please contact us to schedule additional dates)
Time: 9 am to 4 pm
Cost: $225  ($145 class + $80 in chicken)
Location: Stuart Farm, LLC Gerald MO 63037
What students are saying about the class:
"This class was awesome!  I enjoyed every aspect of it.  I feel confident enough to process my own chickens." –Ron
"Just spent a good day at Stuart Farms taking the raising and processing meat chickens workshop. Very much worth the money, I received much more instruction than I expected. The knowledge received was invaluable to me. Fred was a superb instructor, taking enormous care that everyone fully understood what he was demonstrating during processing, doing so with a sincere desire to show efficiency and high standards. Serena was one of the most passionate and knowledgeable person I've met on animal husbandry, detailing on every topic necessary to begin the right, and healthy way to raise meat chickens. I really like that they focus a lot on animal nutrition, that leads to a more nutrient dense product." –Nolan
"We tried the chicken last night. It was amazing. Hands down, the best chicken I've ever tasted."–Katie
"Just finished up the Raising and Processing Meat Chickens Workshop; I HIGHLY recommend this class!! Thank you both so much for all the excellent information you shared with us! I will definitely be back!" –Jamie
_______________________________________________________________________
To register, please select a date and continue with PayPal. Please review our cancellation/refund policy at the bottom of this page before registering.
CANCELLATION AND REFUND POLICY FOR CLASSES AT STUART FARM
We will provide a full refund for anyone cancelling 14 days before the class date.  Cancellation less than 14, but more than 7, days before the class is a 50% refund. No refund will be given for cancelling less than 7 days before the class.  If there is space in another class, in the same year, you have the option of transferring to it, otherwise the policy will be adhered to.  No refunds will be given to students who are unable to complete the class.
A few things to remember:
• Please wear comfortable clothing and shoes you don't mind getting bloody and wet. Aprons and rubber boots suggested but not required.
• For bio-security reasons, if you have been around any other livestock, including a backyard flock, or on a farm, please scrub the bottoms of your shoes and spray with a disinfectant the night before coming to the farm.
• Please bring your own sack lunch, as we do not have the facilities to provide lunch.
• We do not have good cell phone coverage for some carriers; please leave our number with anyone who may need to contact you for emergencies only.
• All participants must be over 18 years old. We do not allow children to accompany parents to class.
• We do not allow spectators. Everyone in attendance must be a paid student.