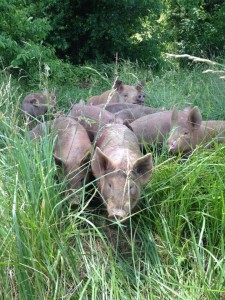 We're expecting our Tamworth x Berkshire hogs to be ready in January 2020. They are born and raised on pasture and fed a non-GMO fermented grain ration.  None of our hogs have been given antibiotics. We don't use growth hormones (it's actually illegal), nor do we use ractopamine, a beta-agonist growth promotant.  They do not have their ears notched, tails docked, been given iron shots, or teeth trimmed.  We allow them to wean naturally and they usually nursed until 10 weeks old.  Since Tamworths are slower growing breed, we wait to process our hogs until they are about 7 months old.  This, along with being on pasture, helps them develop the best flavor and marbling. If you don't have experience ordering by the whole or half, please give us a call and we will be happy to answer any questions you may have to make the best decision for your needs.
What will you get?
A hog at 200# hanging weight will give you about 170# of usable meat.
Here's an example of what you can get:
10 lbs bacon in 1# pkgs.
3 Jowls; ~1# pkgs.
2 Hams; ~10# each
16 Ham Steaks; packaged 2/pack; ~2# each
4 Hocks;  ~2.5# each
1 Neck Bone pack; ~3#
2 Country Style Boneless Rib pkgs.  2.5# each
44 Chops; packaged 2/pack; ~1 lb each
18 Pork Steaks, packaged 2/pack.; ~1 lb each
4 Roasts;  ~3.5# each
2 Spare Rib pkgs.; ~3# each
50 lbs of trim for ground pork, sausages, or brats.
Depending on the live weight and cuts you get, this will differ, but this gives you an idea of what to expect. With this breakdown, two people can have pork about twice a week for the year, and about a pound of bacon each month. For a whole hog, you will need approximately 7-8 cubic feet of freezer space (think the size of milk crates).
Price
Our price for a whole or half hog is $3.50/lb hanging weight.  This is 25% off the individual cut price. This price is for the hog only and delivery to the processor, not for the processing.  Hanging weight will range between 200 – 275 pounds.
We take our hogs to Swiss Meats in Swiss, MO.  You are responsible for filling out the cut sheet, making sure the processor knows what you want, picking-up your meat, and payment for the processing.  We will provide you with the cut sheet and answer any question we can about the cuts.  A basic whole hog processing fee should range between $180 and $254.  Some specialty cuts/cures do have an up-charge; please speak with the processor when you submit your cut sheet to verify all prices.
Approximate total cost for a whole hog and processing should range between $900 and $1200 (approx. $4.65/lb take home).
A non-refundable $200 deposit will reserve your hog and full payment to us is due before you pick-up your hog.  If you would like to make monthly payments before processing day to lower your balance due, please contact us to make arrangements.  We will contact you with your balance due on processing day.
Payment Methods
We accept cash, check ($50 return check fee), or credit card payments.  Credit cards are charged a 2.75% fee to cover the processing fee.  If you would like to make monthly payments before processing day to lower your balance due, please contact us to make arrangements.
If you have a question or would like to reserve your hog, please fill out the form below.  I will contact you to verify your order and make arrangements for your deposit.