DUE TO COVID-19 CREATING A SHORTAGE OF PROCESSING OPTIONS FOR SMALL FARMERS, WE DO NOT HAVE ANY WHOLE OF HALF HOGS AVAILABLE RIGHT NOW.
THE EARLIEST WE MAY HAVE SOME IS FEBRUARY 2021. IF YOU WOULD LIKE TO GET ON OUR WAITLIST, PLEASE USE THE CONTACT FORM BELOW.
WE WILL BE OFFERING PORK BY THE CUT AT FARMER'S MARKET. CLICK HERE TO SEE WHERE TO FIND US.
When you buy a whole of half hog you save time and money.
That's a big win-win!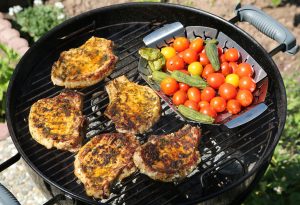 No more standing in front of a meat case choosing from cuts you may not like.  YOU choose what cuts to fill your freezer with.  That means you get out of the store faster because you skip that section.
And because you're buying in bulk, you get a price cut.  Savin' money–no explanation needed there!
And while it may seem like a whole hog is a lot of meat, I can almost guarantee you'll be surprised how fast you go through it.
What will you get?
A hog at 200# hanging weight will give you about 160# of usable meat.
Here's an example of what you can get:
10 lbs bacon in 1# pkgs.
3 Jowls; ~1# pkgs.
2 Hams; ~15# each (can be used for sausage/brats/ham steaks)
4 Hocks;  ~2.5# each
1 Neck Bone pack; ~3#
2 Country Style Boneless Rib pkgs.  2.5# each
44 Chops; packaged 2/pack; ~1 lb each
18 Pork Steaks, packaged 2/pack.; ~2 lb each
4 Roasts;  ~3.5# each
2 Spare Rib pkgs.; ~3# each
40 lbs of trim for ground pork, sausages, or brats.
Plus–feet, tail, ears, liver, heart, head.
Depending on the size of the hog and cuts you get, this will differ, but this gives you an idea of what to expect. With this breakdown, two people can have pork about twice a week for the year, and almost a pound of bacon each month. Have a family of 4? That's pork once a week. Two of those teenagers? You may want to get on our list for our next batch of whole hogs. 🙂
How much freezer space do I need?
For a whole hog, you'll need approximately 7-8 cubic feet of freezer space (think the size of milk crates). You won't be fitting it above your fridge for sure!
I recommend buying a small chest freezer.  The money you save buying in bulk will pay for most of the freezer and at only about $35 a year in electricity, you'll be ahead with your next bulk purchase.
Price
Our price for a whole or half hog is $3.50/lb hanging weight.  This is 25% off the individual cut price. This price is for the hog only and delivery to the processor, not for the processing.  Hanging weight will range between 200 – 275 pounds; $700-$950 for the hog.
We take our hogs to Swiss Meats in Swiss, MO.  We email you the cut sheet and walk you through the cut options if you like. You call in your cut sheet, making sure the processor knows what you want. When you pick-up the meat you pay for the processing.
A basic whole hog processing fee should range between $180 and $254.  Some specialty cuts/cures do have an up-charge; please speak with the processor when you submit your cut sheet to verify all prices.
Approximate total cost for a whole hog and processing should range between $900 and $1200 (approx. $4.65/lb take home).
Payment Methods
A non-refundable $200 deposit will reserve your hog and full payment to us is due before you pick-up your pork.  If you would like to make monthly payments before processing day to lower your balance due, please contact us to make arrangements.  We will contact you with your balance due on processing day.
WE ARE NOT CURRENTLY TAKING DEPOSITS.  PLEASE USE THE CONTACT FORM BELOW TO GET ON OUR WAITLIST.
We allow them to wean naturally and they usually nursed until 10 weeks old. Since Tamworths and Berkshires are slower growing breeds, we wait to process our hogs until they are about 7 months old. This, along with being on pasture, helps them develop the best flavor and marbling.
If you don't have experience ordering by the whole or half, please give us a call and we will be happy to answer any questions you may have to make the best decision for your needs.