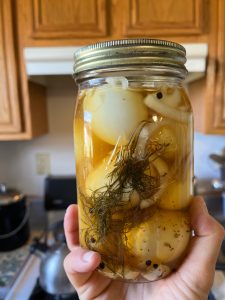 Eggs are seasonal. It may not seem that way in the stores, but if you buy from a farmer, you know come June, they're harder to come by.  For us, February-April is when we have the most eggs. I mean, A LOT of eggs!
Instead of just keeping the surplus in the fridge for us or feeding them to the dogs, we decided to try something different this year.
I have to admit, when my friend suggested making pickled eggs with all of our extras, I was NOT on board. I mean, I love pickles and hard-boiled eggs, but together? I wasn't sure.  But the only other option was freezing A LOT of eggs, so I'm giving it a shot.
My friend gave me her recipe, but I also looked online to see what other options were. I opted for a savory and hot recipe to try first. Most of the recipes are basically the same–1 cup vinegar, 1 cup water, and 2-3 tsp salt. Links to recipes at the end.
From there, it's all about your taste: mustard seed, pickling spices, garlic, onion, beets, dill, hot peppers, hot sauce, coriander, anise, sugar, curry powder, cumin, bay leaf, peppercorns, basil, oregano,  You can use white, cider, or balsamic vinegar.
So now you have a jar of pickled eggs, what do you do with them? Well, my first thought was "I can't see myself eating a pickled egg every day".  But since these are preserved eggs, you basically have eggs ready to go for sandwiches, deviled eggs, a quick breakfast, to top pasta alfredo or mac & cheese, add to green salads, or chop some to add to a cold green bean salad.
How long will they last? Kept in the pickling solution in the fridge with a tight lid, they are good for 3-4 months. That means if we start pickling eggs now, when the girls start slacking off this summer, we can still enjoy eggs!
And I did freeze A LOT of eggs, too.  I did 2 dozen with 1 tsp of salt (sub sugar if you are using for baking) very lightly beaten with an immersion blender and into a gallon Ziploc bag. Lay flat to get the air out and seal. Lay flat to freeze (on a cookie sheet works well) and I fold the top to make sure there's no leaking.
Defrost in the fridge and once slushy, I put the bag in a bowl to dip from. One cup equals 4 large eggs. To me, the texture is unchanged, but you can always add a splash of milk and immersion blend again to cream them up if needed.
We go through 6 eggs a day so having 2 dozen on hand is perfect for us. If you go through less, you can use a quart bag or even a small Tupperware container. This is not a space-saving option, it's an egg-saving option.
UPDATE: We froze so many eggs, they lasted until November! When we first started using them, there was no texture difference. Around late summer, they started getting a bit tougher. I added a bit of milk before using the immersion blender and they were delicious.
Will you try pickling or freezing your eggs? Let me know in the comments.
USDA pickled eggs guidelines and recipes