Due to COVID-19, we are currently offering 4 pick-up locations, home delivery, and on-farm pick-up until the farmers' markets begin.
Winter Off-Season Pick-Ups 
Winter pick-ups are by pre-order only.  Please place your orders by 7 pm the day before pick-up. If you would like home delivery, please let us know so we can make arrangements.
Click here to place your order for the following dates:
April 4     April 18     May 2
Crestwood
Vietnamese Christain Church parking lot
9644 Big Bend St. Louis 63122
9:45 am
Richmond Heights
Schnucks Richmond Center parking lot
6600 Clayton Rd St. Louis 63117
10:15 am
Chesterfield
US Bank parking lot
1795 Clarkson Rd Chesterfield, MO 63017
10:45 am
Wildwood
Inside the parking garage across from City Hall
16860 Main St. Wildwood, MO 63040
11:30 am
We can make stops along or just off our regular route.
Please contact us to make arrangements.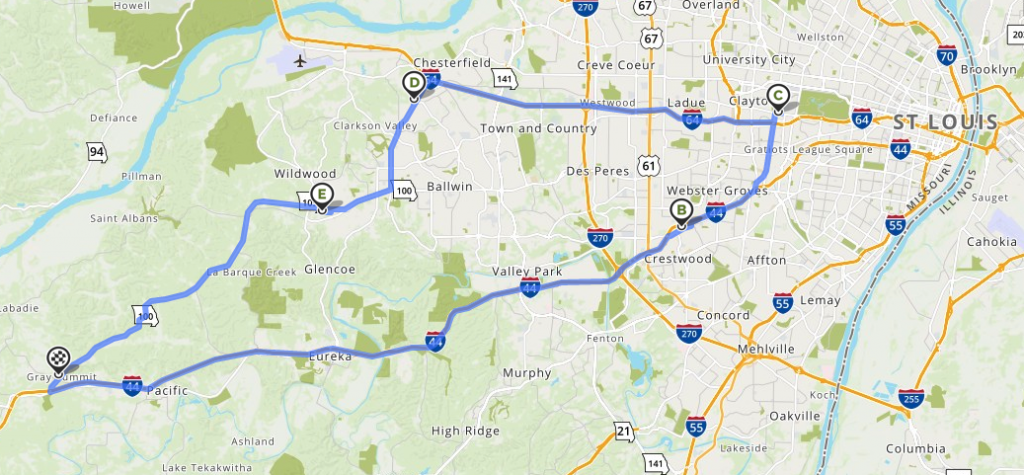 Farm Pick Up
Want to pick-up your order? GREAT!  We'd love to show you around, talk about what we do, answer any questions, and introduce you to some of the animals.  Farm pick-up is by appointment only. Please contact us at least 2 days before you wish to come to the farm to schedule a time.  If you can't make it to the farm, come visit us at the following locations or sign-up for one of our delivery routes.
Farmers' Markets
Get in and out of the market quickly by submitting a pre-order here.  Last minute changes to our market schedule are posted on our Facebook page. "Like" us to stay up-to-date.
Wildwood Farmers' Market
221 Plaza Drive @ Town Center
Wildwood, Missouri 63040
May 23- October 3, 2020
Every Saturday 8am – 12pm
The Boulevard Market
1 The Boulevard
Richmond Heights, Missouri 63117
May 3 – October 25, 2020
Every Sunday 9 am-1 pm.
Point Labaddie, Schlafly, Washington, St. Clair, and Sullivan Farmers' Market  
We are no longer attending these market.  Please contact us to make delivery arrangements in these areas.
Submit an Order