We know you're busy and can't be everywhere all the time.  That's why we want to make it easy to get your pastured meat and eggs.  Stop by the farm, one of our markets, or schedule a delivery and get what you need, when you need it.
Farm Pick Up
Want to pick-up your order? GREAT!  We'd love to show you around, talk about what we do, answer any questions, and introduce you to some of the animals.  Farm pick-up is by appointment only. Please contact us at least 2 days before you wish to come to the farm to schedule a time.  If you can't make it to the farm, come visit us at the following locations or sign-up for one of our delivery routes.
Farmers' Markets
Get in and out of the market quickly by submitting a pre-order here.  Last minute changes to our market schedule are posted on our Facebook page. "Like" us to stay up-to-date.
Wildwood Farmers' Market
221 Plaza Drive @ Town Center
Wildwood, Missouri 63040
May 19 – October 6
Every Saturday 8am – 12pm
Point Labaddie, Schlafly, Washington, St. Clair, and Sullivan Farmers' Market  
We are no longer attending these market.  Please contact us to make delivery arrangements in these areas.
Winter Deliveries 
Winter deliveries are by pre-order only.  Please place your orders by 7pm the day before pick-up.  If you haven't joined our email list, please do so at the right of this page for pick- up reminders.  Click here to place your order now!
Labadie
At the Point Labaddie Brewery parking lot
10-10:30am
First Saturday of the month November-May
Wildwood
Inside the parking garage across from City Hall
11-11:30am
First Saturday of the month November through May
Schlafly 
Parking lot at Schlafly Bottleworks
12:15pm-12:45
First Saturday of the month November through May
Washington
Lower parking lot next to farmers' market pavilion.
10-10:30am
First Saturday of the month October through April
Delivery Routes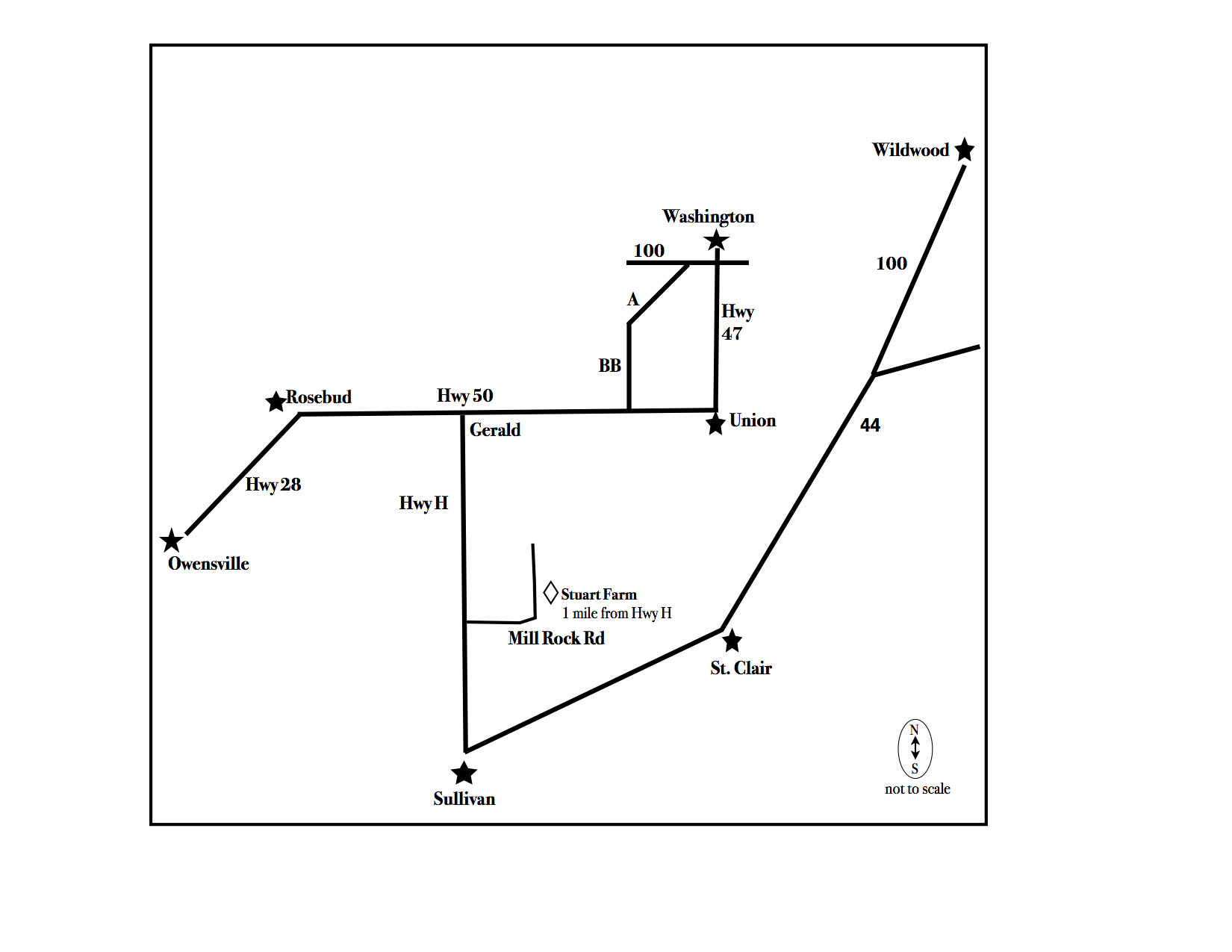 We can arrange deliveries to work with your schedule.  For orders under $50, there is a delivery fee of $5.  On Market days we can make deliveries along our route, or in the general area, to and from the market without a fee.  We also have a delivery route to Owensville once a month.
Submit an Order