I'll admit it, I'm no Julia Childs. I have so many cookbooks and recipes torn out of magazines, but I stick with my handful of meals for the most part.  That's what happens when your husband would happily eat tacos every. single. day. It's hard to change it up.  When I do venture past tacos, I want the right tools for the job.
While some of these kitchen tools may not get used every day, they're still my favorites!
Small whisk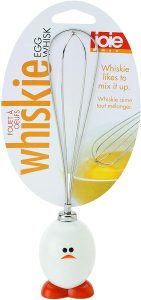 Before you roll your eyes and ask what's the big deal about a whisk, hear me out. I'm talking about a s-m-a-l-l  whisk. One that fits inside a teacup small, not one that you need a gallon-sized bowl to use.
Small whisks are perfect for scrambled eggs, hot chocolate, or anytime you just need a little bit of something mixed up. I like this one because it fits just perfectly in your hand.
Rasp Grater (brand  name Microplane)
We have 2 rasp graters–one for nutmeg and one for everything else.
A self container nutmeg grater keeps the nut and the tool ready to go.  Fresh nutmeg is a must for any and all pork recipes. Buying whole nutmeg and grating as needed keeps the flavor strong and fresh.
The handheld rasp grater is for hard cheeses, zests, garlic, chocolate, and softening butter.
Ginger Grater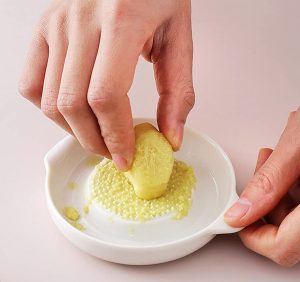 You can use a rasp grater for ginger, but it will dull it SUPER fast.  That's why having a ginger grater is the way to go. Those little bumps magically grate the ginger perfectly. Pro-Tip: use a spoon to scrape off the skin of the ginger.  It comes off like a dream and no wasted ginger bits.
Danish Dough Whisk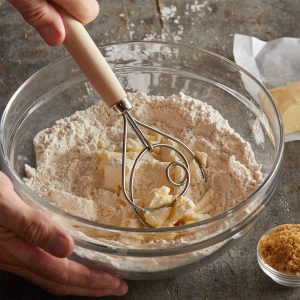 Another whisk? Yes! But this one is for making bread. Its special design allows for easy mixing without overmixing and moves through the ingredients without getting bogged down by them. No more scraping down spoons.
But you can use it for more than just bread–muffin, cake, pancake, and crêpe batters, polenta, grits, oatmeal, and other porridges, as well as folding in whipped egg whites or cream.
VitaClay Stock Pot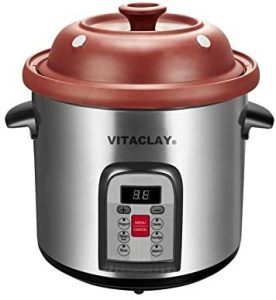 I was a long-time CrockPot brand user, then I found the VitaClay Stock Pot.
It's like a CrockPot and an Instant Pot had a baby. It cooks faster than a CrockPot but keeps everything super juicy like an Instant Pot.
I love that it's all pure clay so there's no worry about the glaze or the metal composition and leaching.
It's surprisingly easy to clean and my favorite for rendered lard, as well as soups and roasts.
Aluminum rimmed baking sheet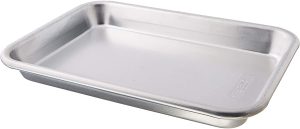 I don't usually cook on aluminum, and when I do I use a silicone mat, BUT, what I love these pans for is defrosting meat.
They are toaster oven size and perfect for a pack of steaks, ground beef, or even a roast. Just place the meat on the pan and place the pan on something so air will circulate under it. I use our gas range grates but you could use a cooling rack, bowl, or just on the counter works but will take a bit longer. Turn the meat every 30-60 minutes.
The aluminum pulls the cold out of the meat in no time, so don't leave it like this while you are away at work all day.  A pound of our ground beef will defrost in a couple of hours.
Cast Iron Anything

If you've asked me for a recipe, my answer will almost always involve using cast iron.  That's because it is, in my opinion, THE best thing to cook with.
We have a wall full of cast iron pans, pots, griddles, and molds of all sizes. Very rarely will I use a stainless pan, but we do have a few of those as well.
If you've tried cast iron cooking before and never got the non-stick quality, here are some tips.
1 – Make sure it's been seasoned well and properly. Click here for instructions.
2 – Use high heat. If the pan is not hot enough to start, it will stick. You can turn down the heat once you start cooking.
3 – USE FAT!!! I cannot stress this enough. Butter or lard is the best, and really lay it in there!
Do you have a favorite kitchen tool to share with me?  Let me know in the comments!