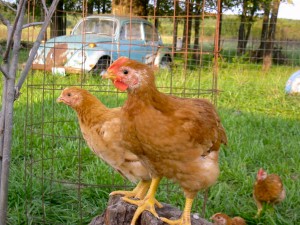 Have you ever…
Wanted to produce your own food?
Thought about raising meat chickens or layers, but weren't sure how to get started?
Wondered if you could really butcher a chicken?
If you want to learn how to raise meat birds and the skills it takes to slaughter, butcher, and package a chicken or want to start your own layer flock…let us show you how!
We have been raising meat chickens and layers for 6 years and have learned a few tricks along the way.  Why start raising your meat chickens on a steep learning curve when we have already done that for you.  We have gone through 3 different models of chicken tractors, 4 different brooder set-ups, tested multiple formulas for our custom rations, and countless tweaks to our butchering process.  We want to share what we have learned with you to make sure you are successful.
We have 2 classes to choose from:
Raising Chickens–The Basics
9:00 am am-4 pm   $135   10 student max.
In this all day class, students will learn all about raising chickens for meat and eggs. Read more and register…
Raising and Processing Meat Chickens Workshop  
9am-4pm   $225   5 student max.
Learn how to successfully raise and process your own meat chickens and take home 4 chickens.  Read more and register…
CANCELLATION AND REFUND POLICY FOR CLASSES AT STUART FARM
We will provide a full refund for anyone cancelling 14 days before the class date. Cancellation less than 14, but more than 7, days before the class is a 50% refund. No refund will be given for cancelling less than 7 days before the class. If there is space in another class, in the same year, you have the option of transferring to it, otherwise the policy will be adhered to. No refunds will be given to students who are unable to complete the class.
A few things to remember:
• Please wear comfortable clothing and shoes you don't mind getting bloody and wet. Aprons and rubber boots suggested but not required.
• For bio-security reasons, if you have been around any other livestock, including a backyard flock, or on a farm, please scrub the bottoms of your shoes and spray with a disinfectant the night before coming to the farm.
• Please bring your own sack lunch, as we do not have the facilities to provide lunch.
• We do not have good cell phone coverage for some carriers; please leave our number with anyone who may need to contact you for emergencies only.
• All participants must be over 18 years old. We do not allow children to accompany parents to class.
• We do not allow spectators. Everyone in attendance must be a paid student.
We really want to talk to you!
If you would like more information, want to pay by check, or need to get on our waiting list, please fill out the contact form below, or call us at 573-764-2324.  We will contact you as soon as we can to answer any questions, complete your registration, or make sure you are on the waiting list.