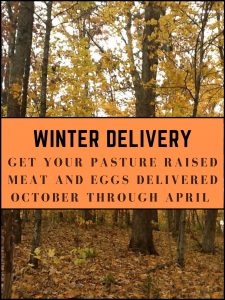 We are moving into the off season and you may be wondering how you'll keep your freezer stocked with delicious meat to feed your family through the winter if the markets are closed.
Well, don't worry, we have you covered!
Each month we will have a pick-up at our normal market locations.  I will send out my usual email with a reminder of the pick-up day/time and a deadline for orders.  If you aren't on our email list, you can subscribe to the right of this post. Pick-up is by order only, so I won't have any extra product available on those days.
PICK-UP DATES
November 11          
December 2          
January 6
February 3          
March 10          
April 7          
May 5
For our Wildwood customers, pick-up time is 11:30am-12pm. I will park as close to my regular market spot as possible.
For Washington customers, pick-up time is 10am-10:30am at the lower parking lot next to the market pavilion.
If you are picking up, I will have your phone number and text with my exact location if we can't meet there for some reason.
Please visit our "Where to Buy" page to keep up with any changes.
If you have any questions, or would like to arrange home delivery, please email us at [email protected]