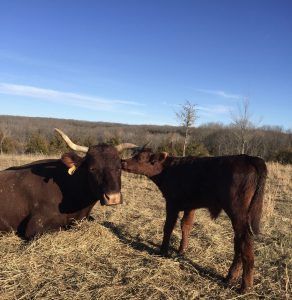 This time last Sunday, I was jumping in the truck and racing to my old timers house to get help.  I didn't have time to hope the cell towers would cooperate and put my call through, I needed him to come back to the farm, and I was racing against the setting sun.
When I jumped out of the truck, he stopped what he was doing and hurried towards me, "what happened?"
"We found our cow, Queen, down and she's not getting up."  We got in our trucks and rushed back to the farm.
Her feet were pushed back behind her and no matter how hard she tried, she couldn't get them under.  The three of us were able to roll and pull until we had both feet under her so she could stand.  Cattle get up back first, so unless the back legs are tucked under, they can't get up.  It didn't make a difference. More than likely, the bull mounted her, and with so much rain, she slipped and injured herself.
When cattle go down, it's very hard to get them back up. Even with harnesses and lifts–neither of which we have–they usually don't recover.  So we weighed our options.
1–give her a steroid shot and hope it works.  If it doesn't, the meat withdrawal period is 7 days, so she will stay downed while we hope nothing else goes wrong in the next week, like bloat, and we come out to find her dead.  She lays around in her own urine and manure, she is nursing, so could also develop mastitis while laying on her udder, get a fever, meat wasted–not an option.
2–butcher her and save the meat, end/avoid her suffering, and bottle feed the calf–best option.
Making a choice like this is hard and I can't help but second guess myself. The next night, I went to my old timers house and the first thing out of his mouth was, "ya'll are making the right choice".  And I know we did.  We've been down this road before. We've tried, it doesn't work, and then I feel horrible for not ending it all it sooner.
The problem is, processors aren't allowed to accept downed animals, even if they know it's an injury.  On farm slaughter was our only option. Luckily, Fred found someone who has the skill, know-how, and most importantly, the time to do an on-farm butcher.
It was so emotional overwhelming for me, when our neighbor arrived with his tractor to hoist her, as soon as he said one word to me, I buried my face in his coveralls crying.
The guy who did the kill was AMAZING.  One shot and that was it.  She literally did not move a muscle after.
We want to butcher a steer ourselves one day, so this was a learning experience, too.  I watched everything he did and he was really good about explaining the whys and hows.
Since the meat isn't inspected, it's all for us. Which is nice since we only save a few steaks for ourselves from inspected beef.  I saved most of the organs and feet for the dogs and everything else went into the compost. I tried to find someone to take the hide with no luck.
Since Queen had a calf, Bo, the day after we said goodbye to Queen, we went to get him to bring him to our place and start bottle feeding.
My old timer came over to check how the butchering went and agreed to help me catch Bo. I could get pretty close to him, but he was too quick to grab, so old timer lassoed him.  The herd did not like that!  They all rushed the fence bellowing and snorting. We had just enough time to lift Bo onto the truck bed, close the tailgate, and get out of there.
Getting him out of the truck and into the stall was much easier.  Once in, I gave him some time to settle down and munch on some hay. His stall is next to Momma Pig, so he had some company.
Later, I went in with a bottle to try to convince him to trust me. Day one didn't go too well.  Bo drank some water and ate some hay, but wanted nothing to do with the bottle.  Or me.  I sat on the hay, sang to him, and talked to Momma Pig as he watched me.
Day two was a bit better.  In the morning, I checked on him and worked at getting close and handling him.  He was very reluctant, until I gave his chest a rub. With that, he turned his head to mine and rested against my cheek. Bingo!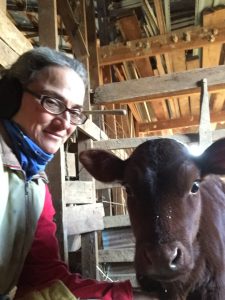 In the afternoon, we started over.  Rubbing on the rump and down the flanks. Walking in circles in the stall. Chest rub and he stopped in his tracks. After some awkward tries, he just about figured out the bottle and downed about 2 cups of milk.  Not the best, but a start.
Day three was much better.  I approached him as he laid on his hay in the manger and he didn't budge.  A few scratches on the rump, and still, perfectly content. Finally coaxed him out of the manger and started the bottle.  He wasn't latching on well so I tried a bucket.  He could drink from the water trough, and took right to the bucket. A bottle is best for the suckling action and comfort, but not getting enough food is worse, so open top bucket feeding it is. I dip my thumb in the milk and let him suck on that for comfort.
It is very tempting to rub on his head and face, but I don't. Right now, it would be cute to give some head scratches.  But, when he's three and weighs over half a ton, I don't want him coming at me with his head down for a scratch.  Many a farmer has been mired into the ground and killed that way.
We are still trying to decide if we should castrate him and what his end purpose is.  We could save him as a bull and either keep him or sell him.  That way Queen's genes will continue. If we castrate him, he can either go to beef or be trained as an oxen and help us work.  Ideally, we would train a heifer, so we could also milk her later, but nothing on a farm is ever ideal.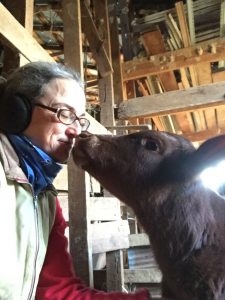 I sent this photo to a friend and asked her why I do this to myself. Her reply? "Because it is good for your soul".  And it is. So, right now, I'm just trying to enjoy a little down time with him every day while I can.