I was very lucky to have my sister and 2 godsons come visit recently. And lucky for her, it was her birthday. Her only request was this cake. She had made it for Kees' birthday and he declared it the best cake ever. When she told him it was my recipe and I made it even better, he was skeptical.  So this was the test to see who made the best tres leche cake.  After the first bite, mine was proclaimed the BEST cake.
I don't quite remember when I first had this cake, but I fell in love with it. Well, I fell in love with the first one I had and then started to use this recipe which was just as good. Almost every one I have had since has not been as good as this recipe. When I lived in Hawaii, this was the cake my and my sister's co-workers wanted for parties. The problem is people think you can just pour a bunch of milk on any ol' cake and it will work. It doesn't. They also think you can just top it with anything and it will be fine. It won't. Then they think they can "fancy" it up with lime or pineapple flavoring. You can't.
And when someone says, "a soggy cake?!" in disgust, tell them they are right and they should not eat ANY of it. Then have a second helping for yourself.
Tres Leche Cake
makes one cake, approx. 8 servings.
for the cake
1 Cup Sugar, divided
5 egg yolks–room temp.
5 egg whites–room temp.
1/3 Cup whole milk
1 teaspoon pure Vanilla extract
1 Cup flour
1 1/2 teaspoons baking powder
for the soaking mixture
1 can sweetened condensed milk (14 oz)
1 can evaporated milk (12 oz)
1/4 Cup heavy whipping cream (buy a pint of this as you will use the rest on the icing)
1 teaspoon pure vanilla extract (see the note in "Tips" below)
for icing
1/4 Cup powdered sugar, adding 2 tbsp more at a time to your taste.
1 3/4 Cup heavy whipping cream
strawberries, cut in slices to garnish the top
——————————-
Preheat oven to 350 F. Butter and flour bottom of a 9-inch springform pan or cut a sheet of parchment paper to fit.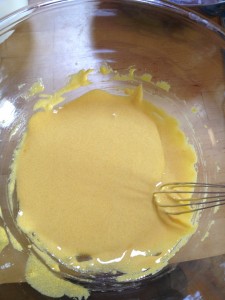 Beat 5 egg yolks with 3/4 cup of sugar until light in color and double in volume.
Stir in 1/3 cup whole milk, 1 teaspoon vanilla,  1 cup flour, 1 1/2 teaspoon baking powder.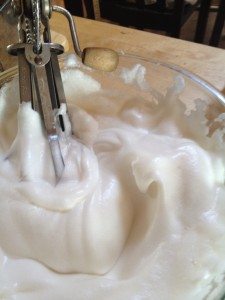 In a small bowl beat 5 egg whites until they form soft peaks.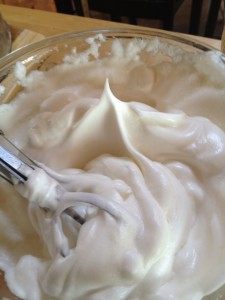 Gradually add in remaining 1/4 cup sugar. Beat until stiff peaks form with shine, but not dry.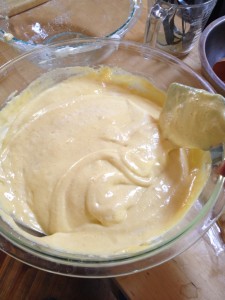 Fold 1/3 of the egg whites into egg yolk mixture until incorporated, then add the rest 1/3 at a time.
Pour into prepared pan. Bake for 45-50 minutes, or until cake tester inserted in the middle comes out clean.
Cool 10 Minutes. Loosen edge of cake with a knife before removing sides of the pan. Cool cake completely.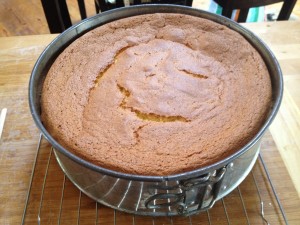 Place cake on a deep serving plate. Using a two-prong meat fork, chop-stick, or anything that will make a similar size hole, pierce entire surface of the cake.
Mix 1 can sweetened condensed milk, 1 can evaporated milk, 1/4 cup of heavy whipping cream, and 1 teaspoon vanilla extract.
Measure 1 cup of the milk mixture, pour over the cake, and refrigerate for 1-2 hours. Pour remaining milk mixture over cake, and refrigerate another 2 hours, or overnight.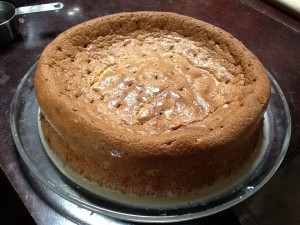 Mix heavy whipping cream adding in the powdered sugar to your desired sweetness. Whip mixture until it forms stiff peaks and is spreadable. Frost cake with mixture and garnish with strawberries.
Keep cake and leftovers refrigerated.
Tips:
Use glass or ceramic mixing bowls that are dry. When beating egg whites, this helps them form better and stay light.
I always use a springform pan, so I am not sure how a regular cake pan would work.
You can substitute low-fat for the whole fat milk products, but they don't really take that much fat out. I have never tried this, so I am not sure how it would change the results.
You can use rum in the milk mixture instead of vanilla extract. The alcohol in the rum is not cooked out of the final product. Only use rum if it will be eaten by adults who drink.
You want to be gentle with this batter. The egg whites prepared separately give it the lightness it needs to soak up the milks and not be too dense. If you are unsure of your folding techniques, watch this video: