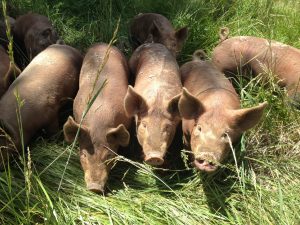 Our last batch of hogs are back from the processor, so it seems like a good time to talk about the worst part of our job.  One of the most common questions we get is "how do you kill/eat the animals you raise"?  I write about death on the farm here, but the short answer is…it's hard. Really, really, hard.  Just thinking about it gives me knots in my stomach.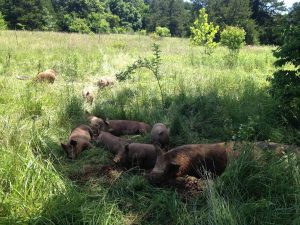 Once the piglets are weaned, they spend their life out on pasture eating grass and rooting up whatever they can find.  When the nuts are falling off the trees, they go into the woods to hunt for acorns, hickory nuts, and walnuts.  They lounge in the sun and make giant wallows to cool down in.
Even though a sow can breed 3 days after weaning, we wait at least 3 months to give her some time to recoup.  We also saved a gilt (female) from Corky's litter to use as a replacement breeder.
We wait until our pigs are at least 7 months old before they go to the butcher.  Heritage breeds grow slower than commercial breeds and the extra time allows for a better flavor and texture of meat.  We also get our hogs to about 250-300 pounds before butchering.
When we had Shooter butchered, they let me stay through the whole thing, walked me through what and why they were doing what they did, and answered all my questions.  It was hard. REALLY hard.  But if I am going to sell meat, I want to know exactly what is happening to my animals when I take them to the butcher.  If someone has a question about the process, I want to be able to answer from my personal experience, not from what I have read or heard. Having a processing team I trust makes it a bit easier, but my heart still aches as we drive away.  Every time, I hold it together until we go feed the others.  Then the tears start to flow.
It's something that will never get easy.  Like with the chickens.  Number 650 is just as hard as number 1. I think there's a difference between getting used to it and coming to terms with it.  Getting used to it means I have been doing it too long and I have lost my compassion for the animal and for the gift they are giving us.  Coming to terms with it is knowing that how we raise our animals and how they are butchered makes a difference.  That's how I know we are giving our animals a great life.  If we didn't care, it wouldn't be this hard.  I never want to be ok after we take an animal in to be butchered.  Even though it would be harder, both physically and emotionally to do it ourselves, I do wish we could.  We are lucky enough to not have to load up our chickens to haul to a processor, and I wish that were the case with our hogs and cattle.
We hope you have enjoyed the journey we take from breeding our sows in Part 1, to having piglets in Part 2, and now understanding why giving our hogs the best life they can have is so important to us.