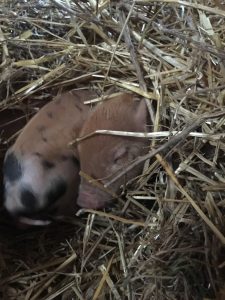 I'm always excited about piglets.  The weeks leading up to the big day, trying to guess when it will happen, pampering the momma, even staying up late in the freezing cold, it's all worth it.
Last week, when I got home from driving my afternoon school bus route, Corky had started to farrow.  The nice thing about attending farrows is I get to know the changes in breathing and movement that go along with the process.
As I watched her, I knew she still had piglets to birth.  The way she kicked her legs, a certain grunt, it all said: "I'm working on more!"
I cleaned each one up and told Corky she was doing a great job. We don't use heat lamps, so I made sure each stayed close to her for warmth.
I stayed with her for two hours while she added 3 piglets to her litter.
When she was having trouble getting one out, she'd half sit up, and roll back down.  Sure enough, one would come out right after.
But when she stood up, turned around, laid back down, I knew that was that. Her breathing slowed and was easy.  She softly grunted at the piglets to come eat and they did.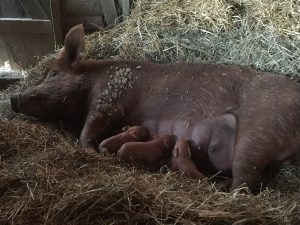 I waited another 20 minutes or so and the afterbirth came.  My heart sank.
She delivered 5 piglets.  One stillborn with leg deformities, four alive.  One of the four also had deformed legs and we had to put it down.
That leaves three piglets with this litter.  Her previous litters were eight and two.
If Corky were solely a pet, I'd be happy to keep her and never get another piglet from her. But she's not a pet. And sows that produce so few piglets don't work for our business.
These were to be our farmer market hogs, so our pork will be in short supply for the summer. Not a good thing.
Having piglets, even just three, is hard on the sow. After the piglets are weaned, we'll let her regain her conditioning and make an appointment at the butcher.
It's not an easy decision to make, but a necessary one for us to be sustainable, to continue producing meat, and to keep lesser quality genetics out of production.
I will enjoy these few months with Corky and when the time comes, cry my eyes out when we say goodbye.