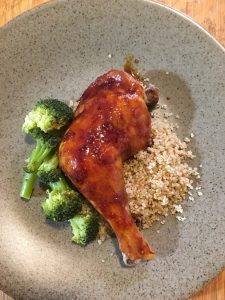 Leg thigh quarters are by far our favorite chicken cut.  On the BBQ, split for fried chicken, roasted with all that crispy skin, always with moist dark meat. What's not to love!
If you've always wondered how to prepare chicken quarters or need a new recipe for them, this post is for you.
This is a mash-up of Wellness Momma's Honey Garlic Chicken Thighs and Milk Street's Vietnamese Caramel Chicken. One didn't seem spicy enough and the other had me standing over the stovetop, neither of which I really like.  Bring on the spice and let me walk away!
Easy and Delicious Vietnamese Garlic Chicken
Preheat oven to 375F.
4 Stuart Farm Leg Thigh Quarters
1/4 c. flour of choice
1/4 c. honey or maple syrup or a combo of the two
2 Tbsp coconut aminos or soy sauce
2 Tbsp water
4-6 cloves of garlic minced or through a garlic press
2 tsp fresh ginger chopped
2 Tbsp fish sauce
1 tsp Gochujang sauce or Schiracha (optional for some heat)
1 Tbsp lime juice
Dredge chicken in flour until coated and shake off excess.
Place in a shallow baking dish.
Whisk remaining ingredients (except lime juice) in a small bowl and pour over chicken.
Cover loosely (cookie sheet on top is fine) and bake 15 minutes.
Remove cover, spoon sauce over chicken. If the sauce is getting too thick add 2 Tbsp water to the pan.
Continue baking uncovered until internal temp reaches 165F.
Drizzle lime juice over chicken and serve with steamed veggies and rice or quinoa.