What does Grandparents Day have to do with farming?  For me, a lot.
You see, who I am now, has a lot to do with who my grandparents were and how much time I spent with them.
On my Mom's Side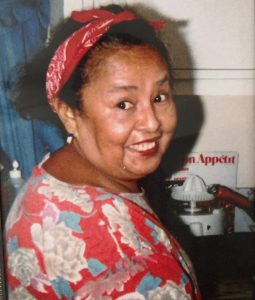 My mom's mom, Grams, lived with us for a few years. When she didn't live with us, we went to visit often.  Grams was a great cook.  Tamales, menudo, tortillas, mexican rice, everything she made was delicious.  And most everything had lard in it.  I remember being in her kitchen. The rickety floor, dimly lit, hot, and kind of scary kitchen.   I would help her make tortillas while I tried to absorb every iota of smell wafting through the air–frying beans, browning rice, a stockpot full of I was never sure what, chili powder, garlic, and cumin.  I loved being in the kitchen with her, but it's only now I realize the impact it had on me.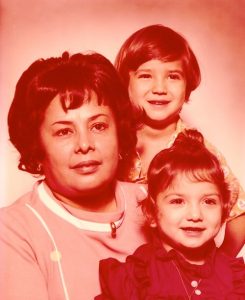 Grams had the softest hands. When I was upset or in trouble, as I often was after my parent's divorce, I would lay next to her as she'd stroke my face or hold my hand and hum.  Her hum would vibrate through my whole body and calm me. She would take a lock of hair at the root and softly pull to the ends, over and over. To this day, when I am really stressed, I do this.
Grams didn't spoil us, give us treats, or buy us gifts. I do remember her buying me a small porcelain trinket box at a garage sale for maybe a quarter. It had gold foiled legs and a rose painted on the lid. I still have it. Even as a child, I knew her time and care meant more than anything she could buy.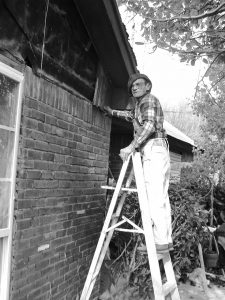 My mom's dad, Ducky, was another story.  I didn't spend too much time with him, but the time I did spend was usually intense.  Ducky was a carpenter.  He built the house my mom spent some of her late teens in and lives in now.  He salvaged brick from a housing project that was torn down to build the house.
He was an excellent craftsman and repurposer. After Hurricane Ike, the guys helping gut the kitchen were so excited to smash apart the cabinets Ducky built. I laughed and told them good luck! They tried for about an hour or so, then decided they'd make more progress prying them off the wall.
When I was around Ducky, I would watch with great curiosity. He was a man of few words, and if you only had "a piece of a brain" as he called it, those words could be harsh.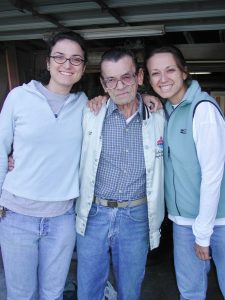 As a child, I was always a bit afraid of him. His gruff voice from smoking since he was 11, his slicked-back jet black hair, and lack of conversation.  But, when I would see him, he'd smile and say, "Oh, Weena, where have you been?"  As I got older, the conversation with him became easier and I learned a lot about him.  During World War 2, he was in the Navy.  On the way home, he and a friend stopped in the South Pacific in hopes of watching nuclear bomb testing.  It was taking too long, so they hopped on the next ship that came through and headed home.
When I was living with my mom, he moved in with us because of his failing health. In his wheelchair, he was still gruff and scary. He'd watch me work around the house and ask me, "oh, Weena, why do you hold the hammer so stupid!?" as he shook his head. I'd give him a hard time about still smoking and he'd proudly say he'd cut back by half–only 2 packs a day now. Can't argue with that I guess.
On My Dad's Side
With my dad's parents, we would see them a few times a month.  Sometimes it was just a quick visit, other times we would stay the night. They always lived in an apartment and I loved staying in the office/art studio/extra bedroom.  And, there was a greenhouse.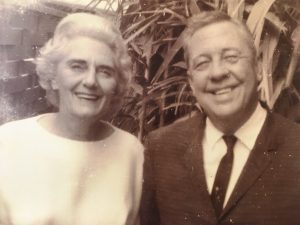 My grandmother, Honey, was an amateur botanist.  She had a beautiful garden in the small backyard and a greenhouse.  I loved sneaking into the greenhouse and examining all the plants she was tending to.  I would carefully examine a new grafting she had done or marveled at an orchid in bloom.  The backyard had banana trees, cucumber vines, and tomato plants covering it. It felt like another world to me.
Honey would tell me stories about sneaking out to go dancing, trips she and her sister took, and when she worked for the Tennessee Valley Authority conducting door-to-door surveys and came across a man with Elephantitis.  Before she died, she told me a story about having the chance to go to the Kentucky Derby and she didn't go.  She looked at me, shaking her finger like she did when she wanted to make a point, and said, "Don't ever regret not doing something."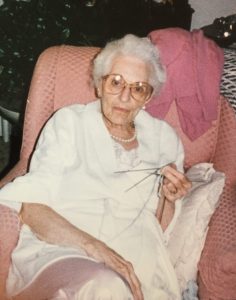 My grandparents had a bit of an unconventional marriage.  They both worked, and my grandfather, Baboo, did the cooking.  Baboo, like Grams, did not spare the fat in his cooking. While I did have to choke down peas and lamb on occasion, and meals were not by request, he also made special things for me and my brother and sister.
He would make silver dollar pancakes for breakfast and coffee milk–warm milk with a splash of coffee. Like my dad, Baboo loved his Blue Bell ice cream, so having a scoop with some sweet treat he made was common.
We'd play hide-and-seek or CandyLand to pass the time. They would watch golf and we'd all fall asleep. If we were super lucky, Baboo would take us to the post office in his Mach 1 Ford Mustang. I can still smell and feel the red seats as I'd climb in the back.  We'd quietly laugh as he yelled at other drivers.  There was a rocking chair my brother and I would rock in trying to see who could go the farthest back and forth without tipping over.
We'd sleep in a pull out bed in the office/art studio. Honey was a painter and I loved looking at her art supplies and the pictures and books on Baboo's desk.  My brother and I would play with the old typewriter and silently open the desk drawers to look at Baboo's wax seal tools.
Unlike my other grandparents, small gifts were given for birthdays and Christmas, usually a book or game, and cards with a few dollars for Easter or Valentine's day. We never got a gift just because we showed up. The only gift I remember from them is a pack of Strawberry Shortcake underwear I opened at my only non-family birthday party. The only reason I remember is that I was so embarrassed in front of my friends.
Maybe my parents would disagree and say we were spoiled and showered with gifts at every turn. If that's so, what they bought made no difference in my life at all. What they have shown and shared with me has.
When Baboo's health began to fail, I would take him to doctor appointments, to the grocery store, and spent as much time helping them as I could. When he was in the hospital, where thankfully I worked, I would take my breaks and go check in on him. The nurses would call when he was being a problem and I would go calm him. I now know he was suffering from delirium on top of the first signs of dementia.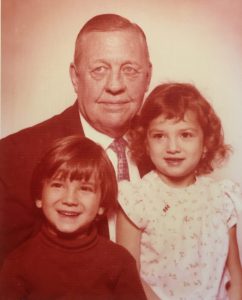 Baboo never got mad at me, except one time in hospital. He asked me to break him out, the camp was surrounded, and we needed to escape. To him, we were back in the Philippines during the war. I told him I would make sure the coast was clear and I stepped out and waited. A nurse asked me if everything was ok and I politely said yes. I went back in and told him there were too many guards, we'd have to wait until tomorrow.
With that, his already pale blue eyes went even lighter and his face hardened as he told me it had to be NOW DAMNIT! He had never spoken to me this way before and it took a bit to calm him down. Later when I mentioned the eye color change to my dad, he snickered saying, that's how you know when he's really mad.
At the time, I didn't want to believe I was losing Baboo to dementia. I didn't think it was a real thing that could make him forget everything, especially me. But when a nurse asked him who I was and I saw the look on his face as he struggled, searching for me, my heart began to break. Then he smiled and said, "that's my sweetie pie".
I was so fortunate to have my grandparents as long as I did. I cherish the time I was able to be there for Baboo, Honey, and Ducky in their final years. Grams was lucky to have my mom, aunts, and uncles to rally around her. I was in Missouri when Grams died. My mom called from the ER and put the phone to her ear so I could say goodbye and thank her for always being there for me.
It's not just on Grandparents Day I think of them. I think of at least one of them a day. When I drop a big glob of lard in the pan. When I'm building or repair something. When I tend to my plants and pastures. When I put Baboo's apron on or look up at one of Honey's paintings.  When I break out Grams' cast-iron skillet or when I cross my legs and sit just so, just like Ducky.
Who they were lingers in me because of the time and care they gave.
I've never been a fan of the "spoil the grandkid" mentality some grandparents have. But looking back on these relationships, I guess I was a bit spoiled. Spoiled with their time. Spoiled with their pride in my accomplishments. Spoiled by their understanding in my screw-ups. Spoiled with unending encouragement. Spoiled with their knowledge.  Spoiled with traditions. Spoiled with learning skills. Spoiled with their care. Spoiled with their love.
There is no greater gift you can give your grandchild than sharing your time and who you are with them and allowing them to do the same for you.
What are your favorite memories of your grandparents or of being a grandparent? Share in the comments.