When you start with quality meat, the last thing you want to do is overcook it.  Who want to spend top dollar on meat only to end up eating leather?!  I've tried all kind of techniques to make the perfect steak or chop.  I tried Alton Brown's method of stove top to oven, and Gordon Ramsey's method of turning every minute and liked both.  But knowing when the meat is done and not losing moisture by poking or cutting is key.  That is where the touch test comes in. (photo from www.thepapermama.com)
You could use a meat thermometer, but sometimes I just don't feel like hassling with it (save the thermometer for poultry) and this touch test works great.   I never cook our meat past medium, and prefer medium rare. "But the blood!?", you say. That actually isn't blood, it's a protein, so don't let that keep you from enjoying a perfectly cooked piece of meat.  First, let the meat sit at room temp for at least 20 minutes.  This will help the meat cook evenly since it's not ice cold in the center.  Skip this step and the touch test does not work as well.  Add whatever marinade or seasonings you want now.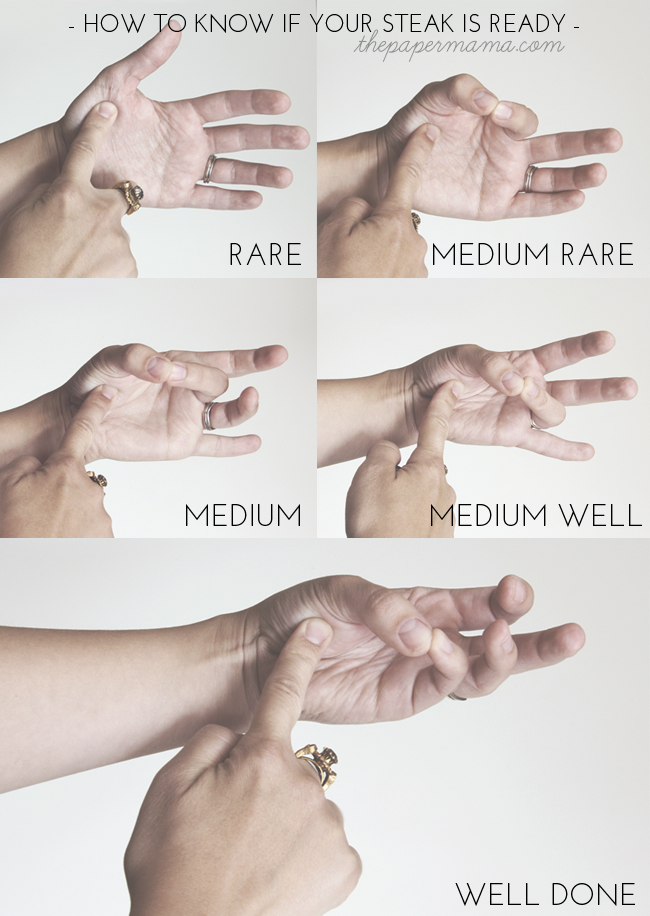 While you wait for the meat to get to room temp, practice doing the touch test to know the feel of your perfect doneness.  At first, you may not be able to tell much of a difference, but if you go through them quickly, there will be a clear difference.  Over medium-high heat, add 1 tablespoon of olive oil in a cast iron pan.  Once the pan is nice and hot, add the meat and turn it with tongs once every minute until it feels just about where you want it.  Smashing it down with a spatula or poking it with a fork will release the juices and you don't want that.  I lightly press the meat, then my hand with the tongs. I usually don't cook it more than 5-6 minutes total, so after the second turn, I will add 2 pats of butter to add flavor and keep it from sticking.  It will keep cooking once out of the pan, so make sure you don't wait too long to remove it.  Once on the plate, allow it to rest for at least 5 minutes.  If you cut into it too soon, the juices will run and it will dry out. It may take a few times to get the feel of your perfect doneness, but remember, you can always put it back in and cook longer. Better to take it out too soon than too late.  Now go enjoy a perfectly cooked steak!
Did you try the touch test?
Leave a comment and let us know how it worked for you.