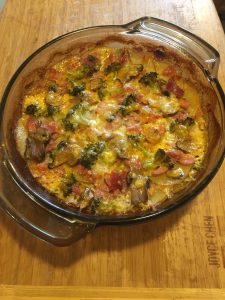 I came across this looking for leftover ham recipes after Easter. I pretty much followed the recipe but made a few adjustments.
What I figured out after we devoured this is you can really wing it with the ingredients.  You can substitute any veggie and any meat.  The ham was really good because of the creamy sauce, but I think ground beef or pork or chopped chicken would be just as good.
It's a great way to use up the last bit of veg and meat you have in the fridge.
(Original recipe from Taste of Home)
Depending on the number of people to feed or the quantity of leftovers you would like, adjust the amounts.
2 pounds potatoes, thinly sliced (about 6 cups)
1 large onion, halved and thinly sliced
4 Tablespoon butter, cubed
2 Tablespoon all-purpose flour
1 teaspoon salt
1 teaspoon ground mustard
1/2 teaspoon pepper
1 teaspoon paprika
1 cup whole milk
1+ cup shredded cheese of choice (I used cheddar and Swiss)
All or some of the following:
cubed fully cooked ham, browned ground beef or pork, diced cooked chicken
small broccoli florets
sliced mushrooms
zucchini, sliced thinly
bell peppers, diced
any veg you like!
Butter pan and arrange 2 layers of potatoes on the bottom and up the sides.
In a saucepan, over low heat, melt butter, add in spices, stir until fragrant.
Add flour into butter/spice mixture, turn to medium heat, and stir until combined. Add in milk and whisk to smooth. Remove from heat
Layer meat, veg, cheese, potatoes; add one-quarter of the sauce.  Continue laying this way until pan is not quite full.  You don't want it to bubble over while cooking. Add any remaining sauce and cheese on the top.
Bake in 350F oven for 45 minutes.  Allow to cool for 10 minutes before serving.
I think this would freeze well after assembly. I would add additional cook time if frozen.
If you try it, let me know how you like it and any changes you made.