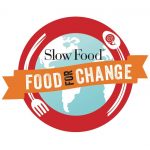 Like a lot of things I get into, I don't remember how or where I came across Slow Food, but I'm soooo glad I did!
Slow Food is the opposite of Fast Food.  It's good clean food made with real food ingredients. Think about what your grandmother used to cook, more than likely, it was Slow Food.
Slow Food is a worldwide organization that started in Italy.  From www.slowfoodusa.org:
"Over thirty years ago, a large group of Italians gathered in Rome for a protest. Why? A fast food franchise was opening at the base of the iconic Spanish Steps. Instead of throwing rocks and yelling, the activists brought in a big bowl of penne pasta and shared it with the crowd that gathered, chanting:  We don't want fast food.  We want Slow Food! That gathering was the birth of the Slow Food movement. Today, we are in over 160 countries, with 150 chapters in the United States".  To read more about Slow Food, click here.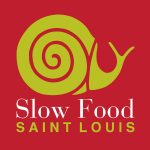 Our Slow Food Chapter in St. Louis is amazing! Run by a group of volunteers, they put on monthly speaking engagements to help people understand the importance of buying from local farmers and how they can support and create their own local food system.
Throughout the year, classes and workshops are offered on everything from making the best cup of coffee to chocolate tastings and from cheese making to apple tree grafting.
They also put on fundraisers like an all locally sourced pancake breakfast to support programs like the Biodiversity Micro-Grant.
The Biodiversity Micro-Grant assists small farmers in producing heirloom varieties of produce and preserving heritage livestock breeds. The aim is to bring these products back into the St. Louis area. We have been the lucky recipient of 3 grants.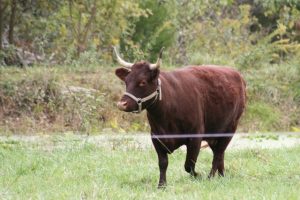 Our first grant helped us purchase our first cow/calf pair of American Milking Devons (AMD) in 2013. We were just starting our farm business and wanted cattle that did well in our area, we could train as oxen, and milk.  It was a big investment for us and the help from Slow Food St. Louis made a huge difference.  Momma has given us 5 calves and Clementine has given us 4 calves since arriving at our farm.
The second grant helped us purchase our bull, Reddington, in 2014. He has been a stellar bull for us. His temperament is cool and mellow. He "plays" gently with the steers, allowing them to test him without taking it personally.  He has sired 25 calves so far.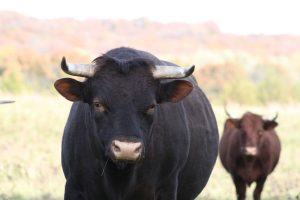 So far we have been able to offer three AMD beeves to our customers with another three ready in 2020, five in 2021, and five in 2022. These two grants helped us increase our herd, help start two other herds in Missouri, and increase the overall numbers of the breed (~2000) in the world.
Our third grant (2020) helped us purchase a Tamworth boar to replace our Berkshire boar. Tamworths are gaining popularity and increasing in numbers but finding traditional stock is hard. Most are bred to be show pigs–shorter and stouter than the traditional tall and long Tams. We've loved our TamxBerk pork, but wanted to go back to our original plan of pure Tam pork and all their wonderful qualities.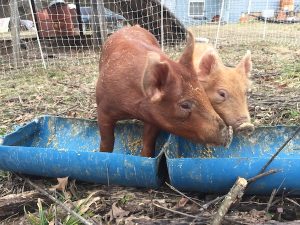 Since it was a long drive to get him, we decided to get a gilt (female) to make the trip really worth it. The boar will be ready to start servicing the girls Fall 2020, so our Berkshire will continue his duties until then.  If we can find traditional stock semen, we'll artificially inseminate the gilt and keep the best female from her to add to our breeders.
Our production has grown so much since we started in 2012 and a big part of that is because of Slow Food St. Louis and people who support their mission.
If you'd like to support Slow Food St. Louis and small farmers like us, here are a few ways you can do so.
1-Become a member. By joining, you'll help keep the mission of good, clean, and fair food alive and well while helping to support programs like the Biodiversity Micro-Grant.  Click here to join.
2-Attend a speaking, class, workshop, or event. Almost every month there's something going on. Click here for a calendar of events and follow them on Facebook to stay up-to-date. You'll learn something new and meet a great bunch of people.
3-Make a tax-deductible donation. In addition to becoming a member, or in lieu of, you can make a donation by clicking here.  Your donation helps put on the events in #2 and helps support small farmers through the Biodiversity Micro-Grant.
From the bottom of our hearts, thank you Slow Food St. Louis and its supporters for all you've done for us, our fellow farmers, and the St. Louis area.
Want to find a chapter in your area?  Click here!