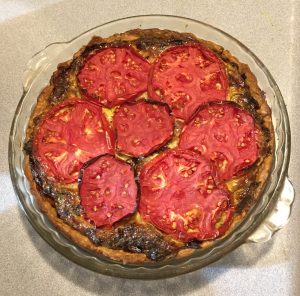 When I first heard of tomato pie, I was skeptical. Was it a dessert or a dinner?  Well, we have an abundance of tomatoes, so I decided to find out.
It did not disappoint!!!!
Not quite a quiche, not quite a tart, but all delicious!  Our tomatoes are so sweet right now, and mixed with our bacon, it was the perfect sweet-salty breakfast.
I used the Southern Living Heirloom Tomato Pie recipe with, of course, tweaks:  I added about 1 cup of shredded zucchini, subbed an onion for shallots, and used mozzarella cheese instead of cheddar.
Southern Living Heirloom Tomato Pie
3 pounds assorted medium to large heirloom tomatoes
1 teaspoon kosher salt, divided
6 thick-cut bacon slices, diced
2 large shallots, chopped (or 1 large onion)
2 garlic cloves, finely chopped (2 tsp.)
6 ounces aged extra-sharp white Cheddar cheese, grated (about 1 ½ cups) or mozzarella
½ cup mayonnaise (I'd use 1/3 cup)
1 cup shredded zucchini, with excess water squeezed out
½ cup chopped fresh basil
¼ cup thinly sliced fresh chives
1 tablespoon Dijon mustard (regular mustard is ok)
1 large egg
Fresh basil leaves
Minced fresh chives

1 pie crust (see notes below)
Step 1
Preheat oven to 400°F. Cut tomatoes into ½-inch-thick slices. Place about 7 or 8 slices (enough to cover top of pie) on a baking sheet lined with paper towels, and sprinkle with ¼ teaspoon of the salt. Cover with additional paper towels, and reserve.
Step 2
Arrange remaining tomatoes in a single layer on a lightly greased wire rack set on a large baking sheet. Sprinkle with ½ teaspoon of the salt. Bake in preheated oven until wilted and slightly dried out, 40 to 45 minutes. Cool completely, about 1 hour.
Step 3
Meanwhile, cook bacon in a skillet over medium-high until fat is beginning to render, 4 to 5 minutes. Add chopped shallots, and cook until bacon is crisp and shallots are caramelized 6 to 7 more minutes. Stir in garlic; cook until fragrant, about 1 minute. Using a slotted spoon, transfer bacon mixture to a plate lined with paper towels to drain. Cool 20 minutes.
Step 4
Stir together cheese, mayonnaise, zucchini, basil, chives, Dijon, and egg until combined. Sprinkle with pepper and remaining ¼ teaspoon salt. Fold in bacon mixture.
Step 5
Gently spread a third of the cheese mixture onto Parmesan-Buttermilk Crust; layer with half of the roasted tomato slices in a slightly overlapping pattern. Spread another third of the cheese mixture on top of tomato slices. Repeat with remaining roasted tomato slices and cheese mixture. Top with reserved sliced fresh tomatoes, pressing filling gently into crust. Shield edges of pie with aluminum foil.
Step 6
Bake in preheated oven until filling is set, 40 to 45 minutes. Transfer to a wire rack, and let stand 1 hour before serving. Sprinkle with basil and chives.
Notes
Store-bought crust is fine.  But if you want an easy homemade crust you DO NOT need to roll out, try this one.
I will definitely make this again before tomato season is over and add more zucchini, onion, and garlic.
Did you try this recipe? Let me know in the comments how you liked it.