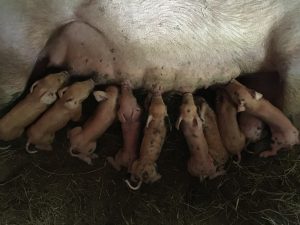 Every farrowing is different. Every sow works through it in her own way. That's part of why I love to be there when it happens.
Yesterday afternoon, Trudy was on her side, up and down, and really uncomfortable, so I put a bale of hay into her stall. She immediately got up and started adding it to her nest and then peed. Both good signs!
Contrary to popular belief, pigs are quite clean and do not use their living space as a bathroom. So when she chose to use a corner as a toilet, I knew for sure, she was ready.
I checked on her once after chores and decided to come back later. When I returned at about 8:45pm, there was one piglet roaming around nowhere near Trudy. UGH!
The first piglet not nursing is an issue for two reasons. 1–nursing helps release oxytocin that helps with contractions. Better contractions mean easier birthing. 2–not nursing means no food, and no food means no warmth.
With her first litter, I was right there with no problem, but it was on pasture. Now, in a confined space, I was worried about how she would react to me jumping in.  And with the sides of the stalls chest high, mud to my ankles in front of the door, and a low ceiling, I had no good escape route if things went bad. Even if I did get in the pen to help, I'd have to walk in front of the bone-crushing jaws of a momma sow in labor to get to the piglet. Not happening. So I waited nervously.
When Trudy started to roll, I knew it could be a long and devastating night. She was trying to push a piglet out with her body. Up and down, rolling this way, rolling that way. With every movement, I cringed hoping she would avoid the piglet.  I coached her with a soft voice, "you can do it, Trudy, just relax and let it come."  And it did–a huge piglet.
After the second piglet, she moved once more and put her belly facing the stall divider. PERFECT!  I could get into the next stall and help from there.
After I clamored along the edge of the barn, only stepping into the mud with my holey boot once, I was in the next stall and could reach the piglets and her belly.  I got each piglet on a teat and started rubbing the others. Soon number 3 came.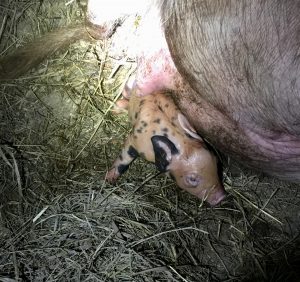 I don't know why she moved in that position by the divider, but it worked well. If she wanted to, she could take out the divider without much effort. I think she felt my safety concerns but wanted my help. It also kept the piglets close to her acting as a side of the nest.  And probably most useful, she pushed on it with her feet as she was delivering and having contractions.  I should have worn earplugs. The sound of a 400 lb sow in labor stomping against tin is deafening.
She was doing great! Some came almost right after the other. Some had a bit of a lag. Right as I was thinking, "I'm so lucky to have not witnessed a stillborn or mummy piglet", she birthed a stillborn.
Of course, in my mind, I could save it. I pulled it over to my side, ripped off the sac and started compressions as I tried to clear the mouth with my finger. No luck. The legs were a bit bony and longer than they should be.  Maybe it died before filling out? Maybe it was a disorder? I don't know.
Then she passed something strange; what looked like an empty sac. I pulled it over to my side and could see the outline of a small skull and partial spine.  When a piglet dies in utero, the mother's system will begin to absorb it. I think that's what it was.
All in all, 11 healthy piglets, about half boys, and half girls were born in 3.5hours.  I stayed to make sure she passed all of the afterbirths–there are 2–and then watched everyone for a while to make sure each had a turn on the teat.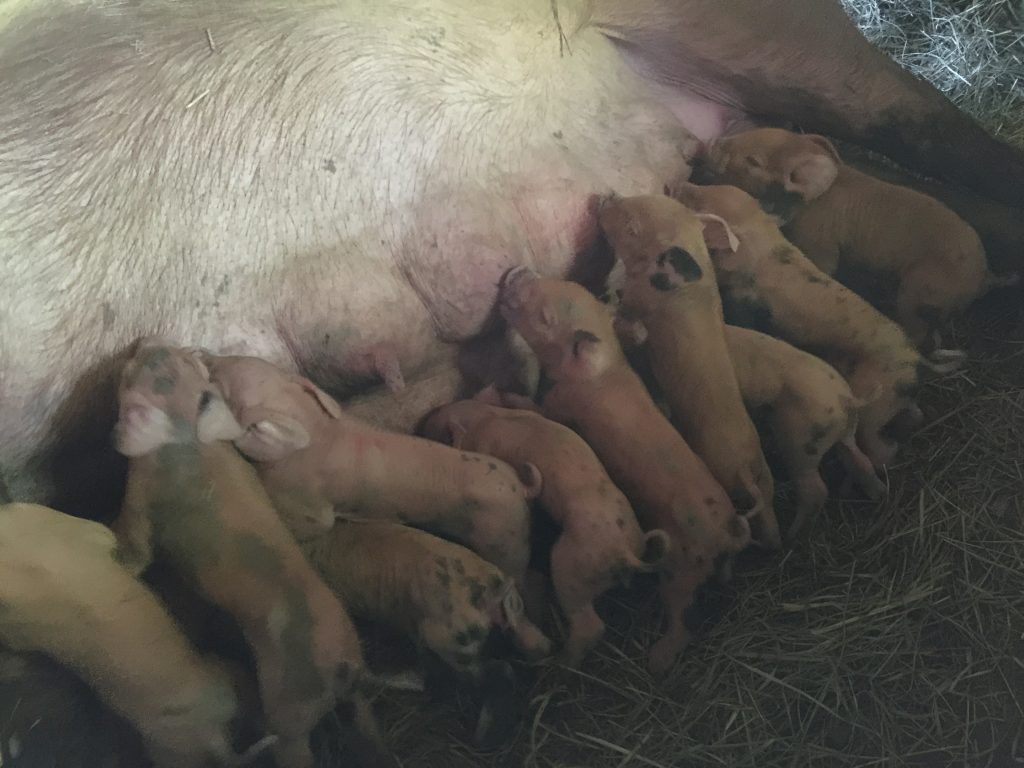 It's a hard few first days for piglets. Being stepped or laid down on are the biggest issues. Since they can't regulate their body temp well for the first few days, staying close to Trudy, and littermates in plenty of bedding helps maintain their heat. We breed our pigs for hardiness, so we don't use heat lamps.
I left with high hopes of seeing all 11 this morning, and I did!  In the next week, we'll be offering farm tours with some piggie playtime.  Until then, they're all mine!!!!!