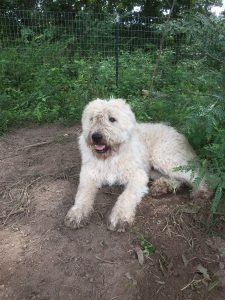 Today is Zeke's 4th birthday and since his sister Maxie has her own post, I thought it was about time to tell his story.
When our friend Kim adopted Lucy who was pregnant, I happily watched on Facebook, thankful I was not dealing with puppies anymore.  Lucy had 11 puppies. 11 adorable puppies.
I would see the pups and go out to Maxie, thinking I was so happy she was finally out of her puppy stage at a little over 3 years old and could be left alone with the chickens. But then I notice her getting up a bit slower. Not being quite as eager as she once was to run the length of the field.  And it hit me–in a few more years, she'll be on her way to retirement. Who will replace her?
A puppy.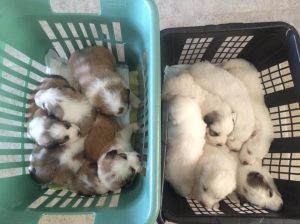 I went back and forth with Kim about which one was available, who did she think had more Komondor than Shepard in them, what about this, and what about that, until I'm sure she thought I was nuts.
I wanted a boy, and since most were already spoken for, we got Zeke. Looking back, it was like no one else chose him because he was meant for us.
I spent the next couple of months watching him grow on Facebook and waiting for him to get big enough (and neutered) to come home.
When the time came, I drove up solo with the backseats down so he could either hang back or come close to me.  We had a little playtime together while I visited with Kim and her mom. I filled out all the paperwork, got his records, his blanket someone had gifted all the puppies with, scooped him up for a quick photo, and away we went.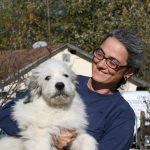 He stayed in the back with his head on his blanket most of the ride home. After a little puke, he came up front and curled up in the passenger floorboard. We had a nice chat about his new home, his new big sister, and what was expected of him.
At home, we let him and Maxie sniff a bit across the fence and then I went in with him to make sure all was good with them. Maxie was, well, not impressed. Zeke would try to get close to her and she would look at him and walk away. But, slowly, day by day, she let him stay a bit closer.
Part of the reason we got her replacement while she was still working was so she could help teach him what he needed to do, and more importantly not do, with the chickens. That didn't quite go as planned. While we lost probably 8-10 chickens to Maxie during training, Zeke topped out at 3-4. I'd love to say that was because of Maxie showing him the ropes, but that was not the case.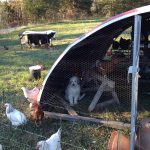 Once when he had a chicken, Maxie just watched him until she saw that I was watching. Then she took off after him, pinned him, then looked up at me. Needless to say, I was not impressed with her delayed response.
At Kim's, Zeke was around a lot of birds. While that in and of itself doesn't train them with poultry, it does help. So I went back to what I did with Maxie: supervised time with the chickens.  Within a few months, I felt really confident in his ability and he has been great with all the chickens ever since (knock on wood).
After he was here for a month, he followed Maxie's lead and when some bald eagles were circling the pasture, he went straight into protection mode.  Barking like crazy and sounding pretty fierce for a big fluff ball.  It's taken him a while to find his own groove and not rely on Maxie all the time, but he definitely has and he takes his job very seriously.
When we have layers and broilers both running, Maxie gets the cush job of the layers and Zeke stays with the broilers.  They spend about 6 months together and 6 months apart. When we put them back together, it's like they saw each other the day before–no problem except Zeke annoying Maxie to play.
One day collecting eggs, a new hen was pecking me and I was yelling, "ouch, ouch, ouch!" Zeke came barreling down from the other side of the field in a full vicious bark and stopped right in front of me scanning for the danger.  Oh, my heart! Even after watching him with the chickens, it never occurred to me that he would be protective of me.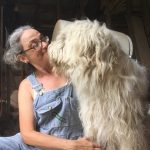 He's grown into a big beautiful dog but still has the biggest goofball ways. He loves rolling around and if you are even somewhat close to the ground, he's in your lap laid out into a full stretch. He loves nosing around to see what we're doing and laying down right where we need to be offering up his belly for a scratch.
Just like Maxie, I don't know what we'd do without him.