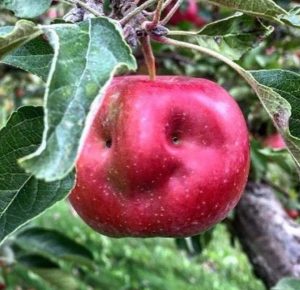 How many times have you picked up a not so perfect piece of fruit or vegetable and put it back on the pile?
We've all done it, but have you ever wondered why?
The Journal of Marketing wondered and the results may surprise you: "buying unattractive produce negatively impacts consumers' view of themselves".
WHAT?! Ugly food does not mean an ugly you, let's get that straight right now.  I thought the reason would have been people think ugly food = less nutrition or quality.  Which also isn't true.
So what does it mean when we pass up that twisted carrot or lopsided apple? A LOT of waste.
There is a big push to market "ugly food" and save grocers $15.4 billion dollars of edible, yet discarded, fruits and veg a year.  Farmers leave approximately 30% of their harvest in the field because of imperfections.
For small family farms, wasting 30% of their harvest is not an option if they are to succeed. Sure, some can be kept for themselves. I know a farmer who harvests about 1,000 pounds of tomatoes a season, but I doubt he is eating and/or preserving 300 pounds worth.
So what do they do? They bring it to the market and hope customers see past the blemish or odd shape.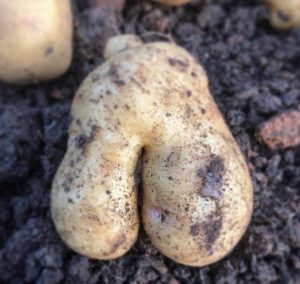 Since there is no nutritional or taste difference, how can we convince ourselves to choose that gnarly potato or bruised peach? It's not easy, but when you look at the big picture, I think we can do it.
Like I mentioned, small farmers can't afford to compost or trash 30% of their harvest.  So buying those less than perfect items keeps money in their pocket.
Remember, if you're choosing organic produce, it's even harder to keep it blemish free. Personally, a perfect organic apple makes me very suspicious.  As does organic greens without a few holes from hungry bugs. Buying this ugly food is an incentive for organic and sustainable farming practices which leads to healthier soil, air, water, and you.
The article didn't say how much that $15.4 billion dollars of produce weighed, but I am guessing it's more than anyone wants to see go to a landfill.
The idea that ugly food is sub-par just isn't true. I hope when you're shopping and see that very special piece of fruit or veg, you buy it knowing you are helping to support a farmer and reduce food waste.
If you want to get a glimpse into what food waste looks like, click to watch, Just Eat It: A Food Waste Story. 
If you buy some ugly food, feel free to share it with me!