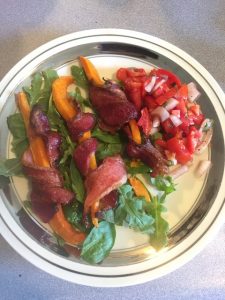 No matter where I've lived, Fall was always my favorite season. Maybe it's because most places had stifling hot summers and the cooler weather (75 is cold, right?) was a welcome break.
But more than likely it's because I LOVE comfort food!
Now that I am in Missouri, not only do I get beautiful fall foliage, I have a Fall and Winter that beg for hearty rich comfort foods. And this recipe is the perfect welcome to Fall!
A couple of tips/options for this.
You can cut the squash in chunks and wrap smaller slices of bacon around it for appetizers.
I used the whole slice of bacon, but cutting it lengthwise for thinner strips would have been better bacon to squash ratio.
Soak toothpicks in water and use to secure the bacon; especially if you use chunks.
If you have extra unwrapped squash and room on your pan, just add it on.  The bacon grease will add yummy bacon flavor to it.
Bacon-Wrapped Butternut Squash
1 medium butternut squash, peeled, seeded, cut into chunks 1″x1″ or slices 1/4″ thick.
1 pack Stuart Farm bacon
Equipment:
rimmed baking sheet, silicone baking mat (or foil), knife, peeler, cutting board, toothpicks.
Sliced squash: cut each slice of bacon lengthwise to make thinner, wrap around and down a slice of squash, secure with a soaked toothpick if desired.  Arrange on a rimmed baking sheet with a slipmat or foil.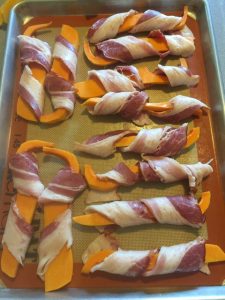 Chunked squash: cut each slice of bacon into pieces long enough to wrap around each chunk with some overlap, and secure with a soaked toothpick.  Arrange seam side down on a rimmed baking sheet with a slipmat or foil.
Bake @ 425F for 30 minutes or until squash is tender.
Removes from baking sheet and plate on a bed of greens, garlicky pasta, or mac and cheese. Enjoy!