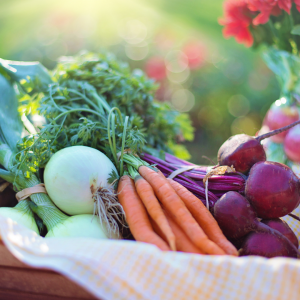 I know, I know…you want tomatoes, sweet corn, and watermelon! But we aren't quite there yet.
Until then, don't overlook the cooler spring weather bounty at the market.
Beets, Turnips, Radishes
I know a lot of people don't like beets or turnips because of the "strong" flavor.  What most people don't know is their flavor gets stronger the older they get. When a farmer harvests the night before, or sometimes the morning of, the market, you get the best flavor.
When you buy these beauties, don't let them sit in your fridge for days!  Take them home and cook them up.  You can eat the leftovers later. Roast beet and goat cheese salad anyone?
Roasting is my favorite was to prepare root veggies.  Roasting radishes cuts their heat and are great in pasta and salads.  Trim off the greens, wash the root, cut into chunks or slices, toss with olive oil, salt, and pepper. Spread evenly on a baking sheet and roast at 350F until tender.  Brown under the broiler if desired.
Spinach, Kale, Collards, Chard
Greens love the cool weather.  So if you eat with the seasons, get your fill of these as soon as possible.
These green leafys are great raw, but to get the most nutrition out of them, it's best to at least lightly steam them. If you are like me, the thought of another thing to wash after dinner does not make you want to break out the steamer.  Solution: Chop them up and steam them with your food.  I add spinach and kale to our pasta dishes this way. Chopped greens on the bottom, pasta and everything else on top–instant light cooking!
Kale chips are a great treat, but also make a great green powder.  Wash the kale and spin dry. Toss in oil, salt, and any other seasonings you want. Tear or cut up into pieces about 2 inches squareish and either use a dehydrator or place on a baking sheet in a low oven until crisp.  To make green powder, crush to break up and use a high-speed blender or spice grinder to make into a powder. Add to smoothies, soups, or sauces.
I sauté chard or collards with bacon and then add a dash of sugar and a nice glug of balsamic vinegar.  That gives it a nice glaze.
Spring Onions
I put onions in everything. Onions and garlic–the reason I haven't been sick in over 15 years. (And I drive a school bus with all kinds of germs floating around)
Spring onions are great grilled, chopped in salads, in lettuce wraps and sandwiches, or topping pasta. You can use them anywhere you'd use regular onions.
Salad Mixes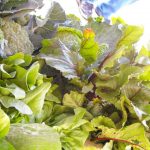 Like with beets and turnips, fresh picked greens are best and will last longer.  Fresh picked salad mixes can last in the fridge for a week and stay as crisp and delicious as day one.
If you are trying to get the most nutrition out of your salad, you want different varieties with deep colors of green and red.  Add in foraged greens like lambs quarters and sorrel and you really pack in the Vitamin A, B2, and C.
Strawberries
Not a guarantee to be ready for our market's opening day, but we can always hope, right?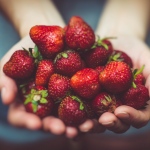 Few things are as wonderful as a fresh picked strawberry.  We have a small patch and I have yet to actually make anything out of our harvest. Straight from the bowl to our mouths is how we like ours best.
This year, try something different with strawberries.  Add them to your salads. Grill them.  Sliced with a bit of fresh ground pepper.  Top a good quality bread with butter and add sliced strawberries.
Need More Ideas?
You can always do an internet search, but ask your farmer!  We eat a lot of extras and have to figure out how to make it exciting/different and do lots of experimenting with our food.
What's your favorite way to eat your Spring veggies? Let me know in the comments.